Animal Sports Therapy, L.L.C. is about reducing pain and restoring soundness to your animal. AST can help your animal recover more quickly from an injury, restore flexibility and therby save lost training time whether it will be equine, canine or other.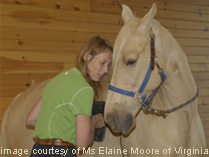 We incorporate:

I realize that the time and money you invest in your animals well being is important to you, accordingly, my goal is to help your animal recover from problems that I can help with in a cost effective and timely manner in order for it to progress to its full potential .

Be wise with your time, money and emotional concern for your animal, let
Animal Sports Therapy, LLC help.



Vet supervision and/or referral required with some treatments